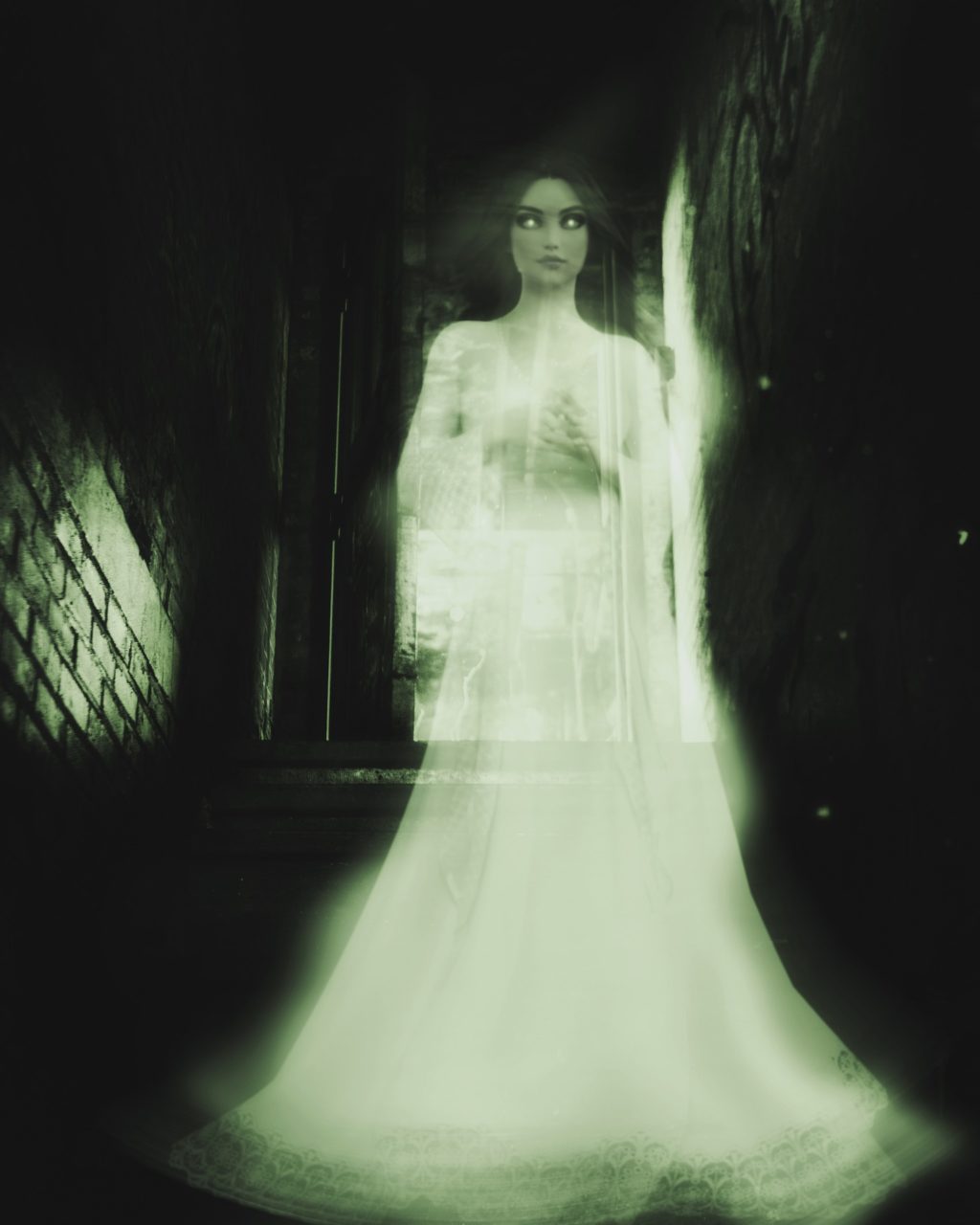 Not every ghost knows who they are.
Emma and Emily were as close as any two sisters could be. They did everything together. They were in all the same classes in high school and worked together. They loved their jobs. They were able to spend their afternoons and early evenings dressing mannequins and folding clothes.
One night as the two were closing up the shop on a hot summer night, Emma went to the breakroom where the employee lockers were to get their stuff. Opening her locker door she saw a gold chain with a black gemstone shaped like a bird hanging in the middle of the small space.
"Emily!" she called out.
"Yeah?" her sister asked.
"Uh, have you been in my locker?"
"No, why would I?"
"There's a necklace in it," she mumbled.
"What?"
Emma sighed and grabbed their bags and the necklace. She laid it on the counter where Emily was counting down the cash register for the day.
"This was in my locker."
"Oh, that's pretty?"
Emily barely looked at it as her eyes flickered back to the cash log.
"You didn't look."
"Sure I did."
"No. You didn't."
Emily sighed and put down the stack of ones in her hand. She glared at Emma then looked at the necklace.
"Pretty. Maybe you have a secret admirer."
"Emma, nobody has been in the shop for hours. We've been the only two in the back room all day. Who left it there?"
"Maybe it was already there when you got here."
"It wasn't," Emma said exasperated.
"I don't know then."
"What is this?" Emma asked.
"A bird," Emily replied, rolling her eyes.
"Duh. But what is it?"
"I don't know. A black bird?"
Emma pursed her lips and walked away from her sister. She locked the front doors, but gasped and stumbled backward, falling into a table of shirts.
"What?" Emily asked.
"I-I thought I saw something. I don't know. I'm tired."
"What did you see?"
"I thought I saw a guy. But, he was really pale and didn't look right."
"A guy?" Emily questioned.
"Yeah. It was nothing. There's nobody there." Emma bent to pick up the shirts while staring at the front door. "Let's just finish up and get home. I'm tired."
"Yeah, sure." Emily picked up the last two shirts from the floor and finished folding.
The girls made it home well before their curfew but after dinner.
"Mom!" Emily called.
"Hi, honey. Dinner is in the fridge."
"Thanks, mom," Emma said as their mother walked away.
Emily scooped spaghetti onto a plate for herself as Emma sat at the counter with her chin in her hands.
"Hungry?"
Emma shook her head. "Not really."
"What are you thinking about, dorkus?"
"Nothing really. Just that necklace. And the guy."
"You said it was nothing."
"Yeah, but he seemed so real."
"Was he at least cute?" Emily asked.
"Yeah. Super cute, just something weird about him."
"Emily, make sure you clean up after yourself," their mother said as she walked past the kitchen toward the stairs. "Night."
"I will mom. Night"
"Night, mom."
She kept walking, seemingly ignoring Emma.
"What's wrong with her?"
"She probably didn't hear you. You know how she has selective hearing."
"Yeah. I guess."
Emily put her empty plate in the dishwasher and started toward the stairs. "You coming up to bed?"
"In a bit. I'm not really tired."
Emily shrugged her shoulders. "Suit yourself. Don't be loud when you come up to the room. Okay?"
"Yeah, yeah," Emma mumbled, walking back to the livingroom.
She sat on the couch, wrapping herself up in an oversized blanket while putting on the tv. As she flipped through the channels, the tv started to flicker in and out.
"What the heck?" Emma sat up and stared at the tv as the image flickered.
The image of the boy showed up.
"Who are you?" she asked.