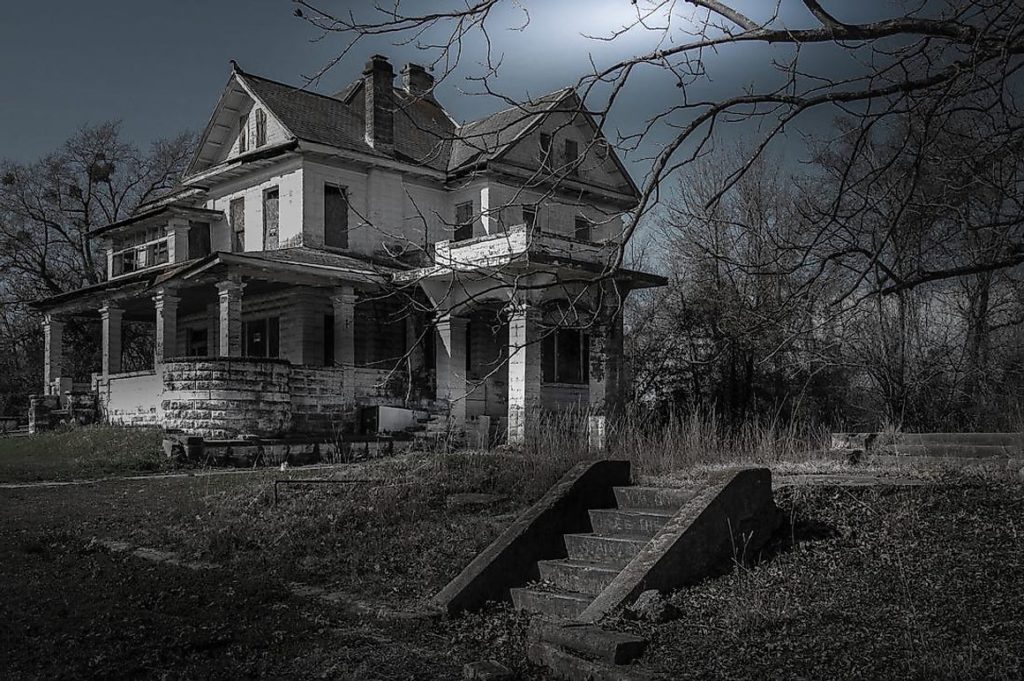 This is the story of three curious girls who end up finding more than they bargained for in The House Next Door
The house next door always seemed to have a revolving door of tenants. I don't remember seeing anyone stay in the house for more than six months honestly.
There was the lovely young couple who had very young children. They were the first I remember. I remember them the most because of the tragedy. My parents never really told me what happened but the newspapers said the husband went crazy and killed his wife before himself leaving the toddlers alone. I remember what sounded like a firecracker then seeing the cop cars. Then the ambulances. They found the kids in their room crying.
It was odd because they were such a lovely family.
Then there was the college kids who rented it for part of the school year. We were close enough to town that they didn't have far to drive but deep enough into the woods that there was privacy. They were good kids. Very quiet. The screams three months after they moved in were what woke us. I ran with dad to the house to find out what happened. Those poor girls. They were terrified and said that someone had to have broken in. They heard a man screaming, a gunshot, and doors slamming. Dad searched the house before the police showed up, but nobody was there. All the windows and the back door were locked. The police searched too. They suggested a security system.
The girls moved out that week.
The house sat empty for about a year after. The owners seemed to do a remodel on the place. Maybe giving it a facelift?
The old couple with their adult children and grandchildren moved in after. They kept to themselves but fought with each other. We could hear them screaming every now and then. We ignored them for as long as we could. Until the cop cars showed up again. I watched from the front porch as mom and dad went over to find out what was going on. The old man went crazy and beat his wife before killing himself. She said the voices were too much. The police searched the house but nobody else was there. The children and grandchildren had gone out of town. The police told the owners to invest in a security system.
The remainder of the family never returned. No moving trucks to pick up their belongings ever showed up.
Those were the most memorable of the families. Others came and went. Some lasted a week other a few months.
My curiosity grew over time as I grew. My friends heard rumors that the place was haunted by ghosts. A lot of them. I always blew them off until one night a few months back. I was having a sleepover with a few of my friends and we heard what sounded like a firecracker from that house.
But the house was empty. Nobody had lived there for the past year.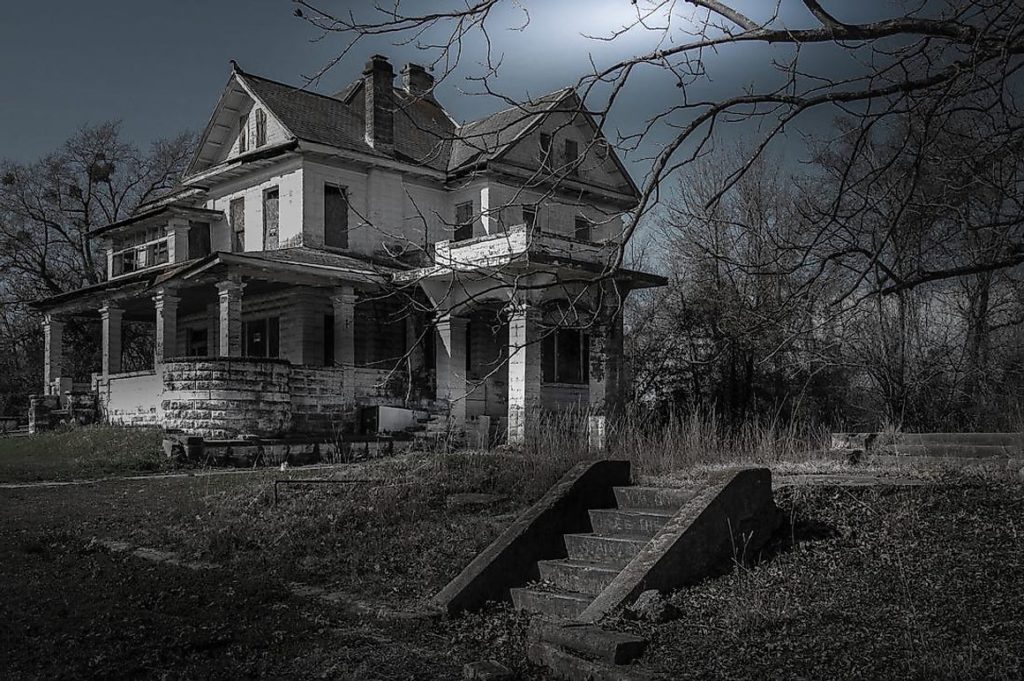 "What was that?" Chelsea asked.
I shrugged my shoulders.
"Did it come from the house?" Alice questioned.
"I think so," I answered quietly, looking out my window.
I gasped and fell backward.
"What?"
"There's someone over there!" I exclaimed.
"I thought it was empty?" Chelsea asked.
"It is."
"Call the cops!" Alice shouted.
"Shh. I'm not calling the cops."
"Let's go over!"
"What? No, Chelsea! I'm not going over there. That place is creepy."
"Yeah? And? What do you think Ellen? Should we go?"
I pursed my lips and went back to the window, staring at the house. I always wanted to go inside. I wanted to know why nobody ever stayed there.
"Yeah. Let's go!"
Chelsea squealed while Alice groaned.
"Grab flashlights! Oh and your camera!"
We snuck out the back door and ran across my yard and through the few trees that separated the two properties. The night was hot and humid, but once we crossed that threshold it felt like the temperature dropped. I could see my breath.
"Did you feel that? It's so cold!"
I nodded and continued toward the vacant house.
"What if there are squatters or someone living in there illegally?" Alice quipped.
"I doubt it," I mumbled, climbing the stairs to the porch.
The windows were intact and the front door was locked.
"Doors locked. Let's go," she said quietly.
"No. There's a hide-a-key around here somewhere." I turned over a few of the long dead pots of plants on the porch.
"How do you know?"
"The guy who owns the place asked my dad to keep an eye on it once. He told us where they kept a spare key incase of emergencies." I held up the dirty, gold key in triumph. "I guess he never bothered to take it back."
The door unlocked easily and creaked wide open for us.
"I'll wait here," Alice said, biting her nails.
"Fine. Chicken," Chelsea said, walking into the house.
I shrugged and followed behind.
"Well?"
"Well, what?" I asked.
"What's the story on this place. Like what actually happened?"
"I don't know everything. Just a few things. So, like, a few years ago this guy and his wife moved in with two little kids. One night the husband went crazy and murdered his wife then himself leaving the kids alone for like two days until the cops found them. After them these college girls moved in. They moved out real quick saying they saw a man screaming, heard gunshots, and doors slamming shut. A while after them this mean old guy and his family moved in. He beat his wife really bad and then killed himself. Nobody ever stays here for a long time."
"Oh I wonder if it's like cursed or something."
"It's something," I muttered. "I do know that a long, long time ago the people who built this house had a lot of misfortune. The same family owned the house for like a hundred years and every single one of them died and were buried on the property. There's supposed to be a family graveyard somewhere behind the house. At least that's my grandpap always said."
"No way!" she said.
"Yeah."
We walked through the living room. It almost looked like it was just waiting for someone to come home. Everything remained from last people who packed what would fit in their car and left never to return. Chelsea plopped onto the dusty couch and put her feet on the table.
"Have some respect."
"Or what? Is grandpa ghost gonna get me?"
I arched my brows and walked back into the hallway. A cold breeze seemed to move right through me.
"That was weird," I said.
"What?"
"It just got really cold."
"Well it is a drafty old house."
"Yeah. I guess."
"Let's look upstairs!" She jumped up and ran for the stairs. "Come on, Alice! It's not bad. It's just dusty."
"No thanks," she replied from the doorway.
"Okay, go check out the graveyard in the back then," Chelsea laughed.
"The what? There are dead bodies?"
"Yup."
Alice hurried inside and grabbed the back of my shirt. "Do not leave me."
I laughed and grabbed her hand. "We're all safe together. Chelsea, hold our hands."
"No, you chickens."
"Strength in numbers," Alice cried.
Chelsea went into the first bedroom and stopped in her tracks. "Uh, why did the last people move out?"
"I don't know. They were here one day and then just gone. Why?"
I stared wide-eyed. There was a giant, red stain in the middle of the floor. The sheets were stained and it seemed to trail onto the walls.
"Uh, that's not normal," Alice whispered.
"No, it's not."
"We're not going to find bodied in here are we?"
"I hope not."
We quickly left the room and for a moment I thought about calling the cops, but what if it was just paint? Maybe?
Chelsea was already in the second bedroom when a door at the end of the hall creaked.
"Did you hear that?" Alice asked.
I nodded and pointed my flashlight to the end.
"Hear what?" Chelsea poked her head out of the room.
"Something down there. It sounded like a door."
I walked forward a bit and saw a room with an open door.
"Hello?" I called.
No response. I swallowed hard and entered the room. It looked normal. Just duty. A small child's bed sat between two windows, a chest rested at the foot of the bed and a dresser against the far wall. Just a normal kid's room. I opened the chest and saw a bunch of old toys.
Alice peeked in before hurrying to where I stood. Chelsea opened the closet door and rummaged around in the leftovers that rested inside.
"There's all kinds of clothes and shoes in here. They didn't take anything?"
"I guess not."
Creak.
All three of us screamed and turned to see the door moving.
Slam.
As we watched, the door slammed shut as if someone was angry.
"Let's go. Let's leave. Can we leave? I want to leave!" Alice cried.
"It was, um, probably the wind," Chelsea tried to reason.
"The windows are closed," I said.
"I'm leaving!"
I opened the door a bit and peeked out. All of the doors were opened.
"Were the doors all opened?" I asked.
Chelsea shook her head.
"Well they are now."
Alice pushed past us and ran, screaming, down the hallway and vanished down the stairs. Chelsea finally grabbed hold of my hand.
"Do you want to leave?"
"I don't know," she whispered.
We crept out of the room and looked in the one across the hallway. It was another kid's room. Identical to the one we were just in. We kept walking and got back to the room with all the blood. Looking in, my breath caught. The stains…were all gone. There were no red stains. Anywhere.
"What the fu…" Chelsea mumbled.
"There were red stains before, right?"
She nodded.
"You saw it, right?"
She nodded again.
As we stared into the room the closet door slowly opened.
"What the fu…" she said again.
"GET OUT!" a deep voice said from within the darkness.
"Oh my God," I said.
"GET OUT!"
The voice sounded like it was right in my ear.
I screamed. Chelsea screamed and we ran.
We ran down the stairs and out the front door. Once we were off the front porch, the door slammed behind us. I looked up to the window on the second floor and saw an angry man standing, staring down at us. He looked like he was screaming. I glanced over to the other window to see another man and a woman standing there. Half of his face was gone and she didn't have a jaw.
"Holy shit. I'm gone. I'm done. I'm never coming back here."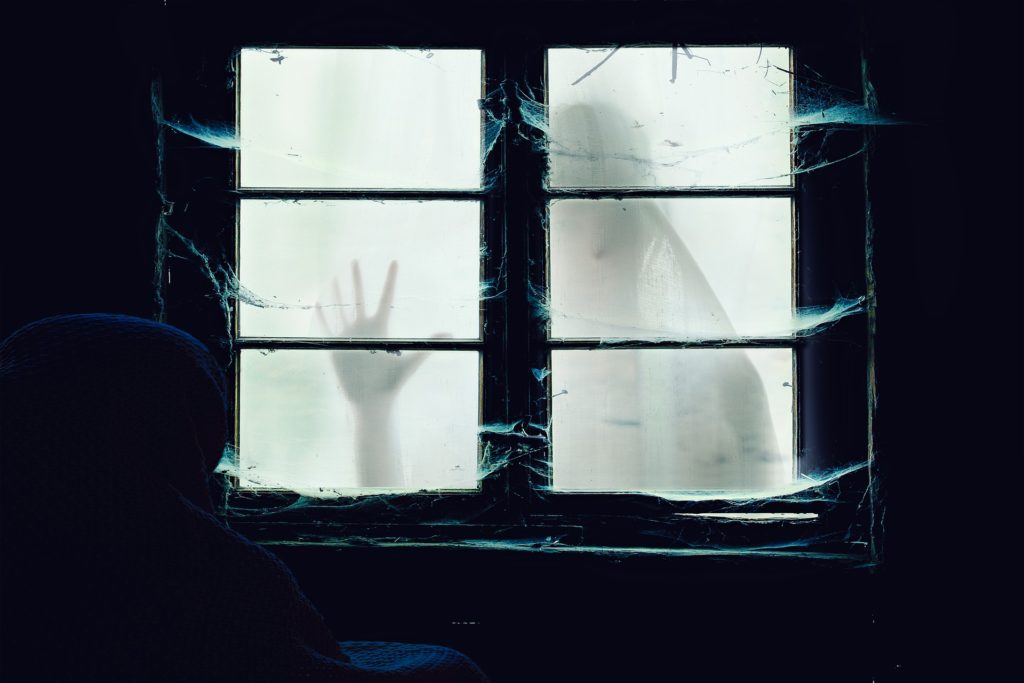 I managed to pull my gaze away from the house and ran. I didn't stop running until I reached my bedroom. Alice sat in a corner crying.
"What was that?"
"I don't know. We're never going back there. I'm never going back there. I don't know," Chelsea cried with her.
I stared at the house from my window and heard the sound of a firecracker again and a bright flash.