Our Equipment: Phasm Light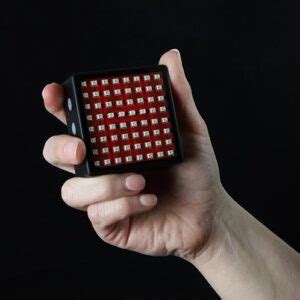 The Phasm Light Outshines Them All
Price: $99.95
You can pick up the Phasm Light exclusively at Ghoststop.
One of the biggest problems we face as paranormal investigators are the lighting issue. We don't want a lot of flashlights or camera lights shining around. Not only does it tend to kill off whatever spooky mood you're creating it could make it hard to spot a ghostly specter who may be among us.
That's where the nifty phasm light comes in to play.
Night Vision + Full Spectrum + Total Control
This is not your average camera light. As paranormal investigators, we wanted to create a light that solves more of our needs at once. Phasm is the first and only light to offer so many lighting options in one compact device. Whether you need infrared for night vision, ultraviolet, various colors, or all of those at the same time for one stunning blanket of light, this device does it all.
Controls on the back provide the ability to easily adjust which lights to use and adjust brightness. Its unique mounting system allows you to attach the light to a standard tripod or bracket but also magnetizes to anything metal for awesome flexibility. You can even snap multiple Phasm lights together to create a beastly stack of illumination and name it, 'MegaLight'.
Night Vision Plus…
Full-spectrum light
Infrared night vision, ultraviolet, and visible color
Full control over the light selection, brightness, and color
Wide-angle spread for ultimate light coverage
Unique magnetic and tripod mounting system
Rechargeable battery and plug for unlimited power
Phasm gives you full control with one light that does it all. Sometimes you just want to use infrared for night vision. Maybe you want to blanket the room with color. Other times you may want to take full advantage of full spectrum. Now you can do it all with one light.
Back Controls
Infrared on/off switch
Ultraviolet on/off switch
Brightness slider
Color selector switch
Power button
Settings Display Screen
Infrared light status
Ultraviolet light status
Brightness percentage (0-100%)
Color selection display
Battery status and charging indicator
Firstly, yes you can mount this light to a standard tripod or bracket. We have included a standard metal threaded mount on the bottom for securely attaching to a typical tripod or threaded bracket. But that's where 'standard' ends.
Phasm utilizes an array of powerful magnets on each side, top, and bottom for ultimate mounting flexibility. This magnetic system allows you to secure multiple lights together if you want supreme multi-light power. Built-in powerful magnets snap Phasm lights together for a secure grip with no hassle.
You can mount the light to any magnetic surface like a refrigerator, window frame, air vent, car door, or one of those magnetic phone mounts. This proves handy in cases where you don't have a tripod available or the flexibility of using tape to mount things on location. Just find a metal surface, zap Phasm into place and go.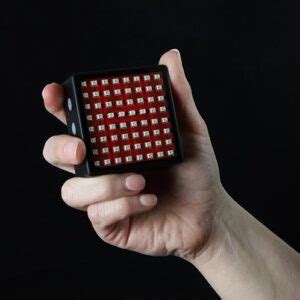 Rechargeable Power
Camera lights are one of the biggest battery eaters, especially for ghost hunters. As investigators, we use lights for hours on end and infrared light is a huge drain on power. Phasm is out to change that.
This light utilizes technology to intelligently access the most light power possible with light management, battery life indication, and simple recharging. Since Phasm utilizes a standard USB port for charging, you can plug it into any USB for a quick charge. It will even work while plugged into an outlet or USB battery pack for unlimited use.
Mounting & Accessories
Phasm has a built-in metal tripod mount. This makes it easy to mount directly onto a tripod or bracket with standard threads. We recommend the accessory bracket listed below for flexibility in mounting this with a camera. We also have a shoe adapter to allow mounting to a camera or bracket with a hot shoe or cold shoe mount. See below for these and other helpful accessories.
Be sure to stop and check out the rest of our tech equipment that we use on all of our investigations.